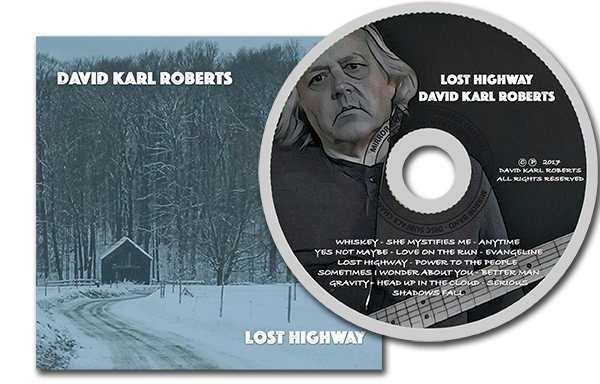 David Karl Roberts – Lost Highway
14 Songs – recorded July 2016 to September 2017
Combine an Americana Troubadour with a cocktail of Soulful Melodies, Swampy Blue Notes and Outlaw
Folk and serve it up with a side dish of Indie Grooves and you get David Karl Roberts, a songwriter
who creates a blend of New Americana Music.
DKR has been an opening act for national touring artists and has performed a clubs, festivals and colleges throughout New England and the East Coast of the U.S. as a singer/songwriter/solo performer and with his touring bands, Love Cactus, The Killer Greens and Crazy Moonbeam.
CD's Available at CDBaby
David Karl Roberts – Lost Highway – 14 Songs – CD
Digital Downloads Available Now!
Listen on Spotify
EP's
Can't wait for the whole shebang ? Digital Downloads at BandCamp. EP's, Single and the reissue of Cadillac
EP Volume 1 – Six Songs from Lost Highway
EP Volume 2 – Six Songs from Lost Highway
SINGLE – EVANGELINE
Available for Digital Download on CD Baby
Words and Music by David Karl Roberts and featuring vocals by Molly Ladd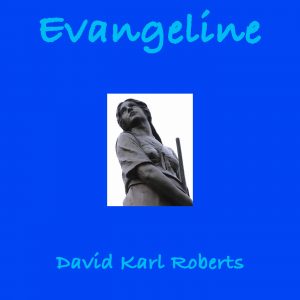 NEWS
Evangeline – News story from Bangor Daily News
Maine Songwriter Breathes New Life Into Longfellow Epic & Lost Film Classic
October 7, 2017 – Story by Troy Bennett for the Bangor Daily News
A "NOT SO NEW" RELEASE
20th Anniversary Reissue
Originally a cassette release in 1997 – Cadillac – NOW AVAILABLE on CD and Digital Download