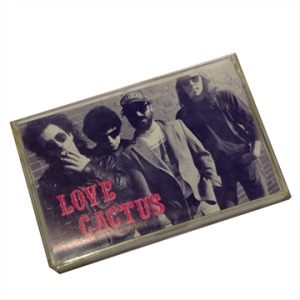 Dive Bomber – Love Cactus – words and music by Kevin O'Reilly 1992 All Rights Reserved
Recorded at Big Sound, Westbrook, ME  – Engineered/Mixed by: Paul French
Before there was the term Americana there was Country-Punk-Funk-Groove-Jam-Blues. No one had a name for it yet, but Roots Rock just didn't cover it all.
Love Cactus played legendary clubs like The Rat and Bunratty's in Boston, Raoul's and the Tree Cafe in Portland, The Stone Church in NH and they showcased at original music clubs and colleges throughout Maine and New England – we could thrash and burn, funk it up and minutes later turn out super sweet country blues licks.
Cutting edge before the cutting edge happened. Songwriters DKR and Kevin O'Reilly.
DKR – guitar, vocals
Kevin O'Reilly – Bass, vocals
F.Bart Joy – Lead Guitar
Brian Houran-drums